5 Things to Know about How Shoppers View Plastic use During Covid-19
Shopping is a different experience in Corona times. Face mask on, we take a squirt of hand sanitizer before dancing round the aisles avoiding other shoppers and touching too many items. Many skip the high street altogether, choosing to shop online instead. But in terms of plastic use, has Covid-19 changed what we buy and how we shop?
"
There have been some reports of consumers turning their backs on reusable shopping bags due to safety concerns, even though Covid-19 has been found to live longer on plastic than fabric. Despite this, our recent ReThink survey found that 80% of Europeans want to see no more or less packaging to protect groceries in response to the coronavirus.
The survey asked 4,000 people in Germany, France, Norway and the UK about their shopping habits during the pandemic. Despite Covid-19, the majority of respondents said they still try to avoid plastic while out shopping.
1. Norwegians are the least and Germans the most mindful about plastic use.
Across the four countries surveyed, 68% of respondents take care to avoid the use or purchase of plastic. This was highest in Germany (75%) and the UK (72%), but markedly lower in France (61%) and Norway (57%). In fact, 39% of Norwegians said they were not very mindful or not mindful at all about plastic.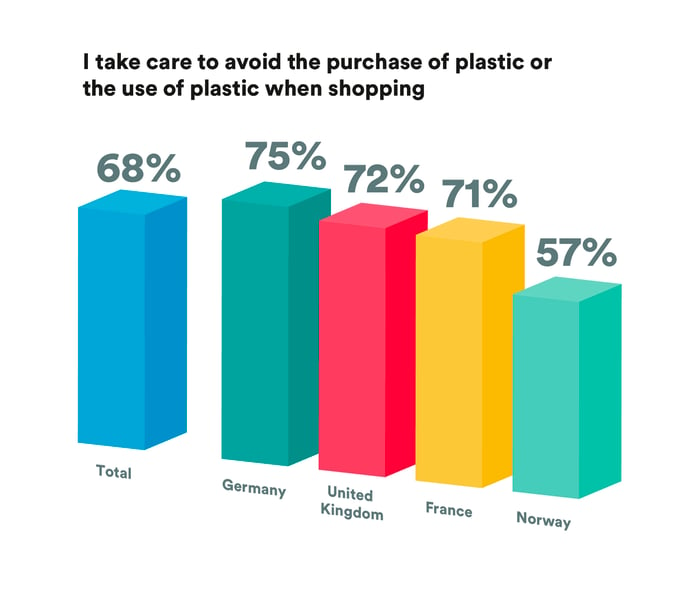 "
2. Both young and older people try to avoid plastic.
In general, 50+ respondents (71%) were most concerned about plastics, followed by 18-34 year olds (68%), The middle age group (35-49) said the make the least effort to avoid plastic (65%). This divide was most starkly seen in Germany, where younger people (77%) aged 18-29, and 60+ respondents (79%) were over 10 percentage points more likely to be concerned about plastic than those aged 30-59 (65%).
"
3. Women are slightly more likely to avoid plastic than men.
70% of women said they take care to avoid the use or purchase of plastic, compared to 67% of men. Men (31%) were even more likely than women (26%) to say they don't take any care to avoid plastic while shopping. However, only 22% of men from the UK said that they don't avoid buying or using plastic in shops.
4. People with higher levels of education are more likely to avoid plastic.
Just under three quarters of people with a high level of education say they avoid plastic while out shopping, compared to two thirds of those with a low level of education. People with low levels of education were also more likely to not consider plastic while shopping (30%) compared to the most educated group (25%).
5. Villagers avoid plastic just as much as people from the big city.
Although the stereotype goes that fancy city dwellers drive sustainable shopping trends like organic and fair-trade food, our survey found that the size of your home town isn't a decisive factor in terms of your attitude towards plastic while shopping.
Around 70% of people from towns, villages, and cities take care to avoid the use or purchase of plastic – give or take one or two percentage points. Our survey shows that despite safety fears connected to the pandemic, most people have not abandoned their ethical stance on the purchase of plastic or its use in retail.
This may indicate that consumer trends towards a more sustainable lifestyle are resilient to shocks – a theory that may well be tested in the global recession predicted to follow in the coming months and years as a result of the pandemic. Yet, if this global health crisis can teach us anything, it is that there are more important things to life than things. While adhering to safety rules and taking sensible precautions is necessary to manage the spread of the virus, we believe that rather than causing us to abandon our ethics, this pause to business as usual has given us all time to reflect. It has revealed the interconnectedness between societies and the natural world and the need for us all to care for one another.
"