Catchy Artwork for Clean Rivers and Oceans
By now, many people know about the problem of plastic pollution. However, they often are not aware of the extent of pollution in their hometown rivers and surrounding natural habitats. Another less known fact is the value plastic waste can offer when disposed of properly. Underneath the first impression of useless and ugly plastic waste, there lies beauty and a second life.

Plastic pollution is all over the media, and the topic has found its way into top levels of governments. Companies are scouting alternative packaging material and look to establish plastic-free production, politicians are claiming to solve the problem, people try to reduce plastic consumption in their everyday life, and some even try to live "zero waste". Yet the production and consumption of plastic are increasing each and every year while the use of recyclate only increases slowly and millions of animals are dying from plastic pollution. So even though movement is slowly occurring and the first steps towards a sustainable handling of plastic are made, there is still much work to do! Regulations must be passed and enforced, the proportion of recyclate compared to new plastic has to increase and a lot of educational work and hands-on cleaning up have to be done all over the world.

WHO'S IN CHARGE?

We are still facing a dilemma: most people fail to see it as everybody's problem and therefore, don't feel responsible. This is true for companies, societies, the industry and politics. Besides those greatly affected by it, no one wants to take responsibility for their actions or foot the bill. But to solve the problem in the long run, it is crucial to implement new behavior and understanding in which each player contributes to a change. Our beautiful planet will outlive humankind regardless of our choices, but resource consumption and waste management patterns will become increasingly vital for us as humans.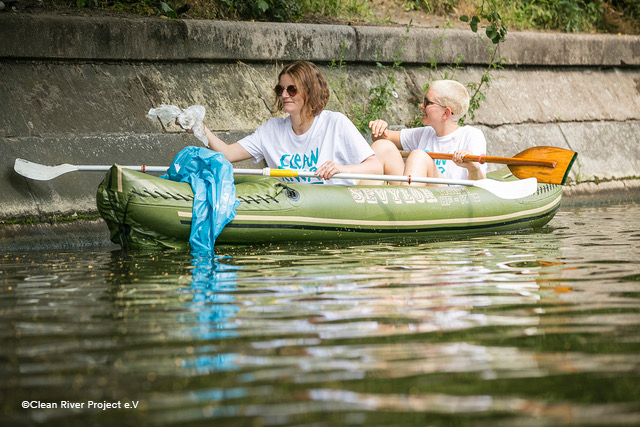 CLEAN RIVER PROJECT e.V.

Clean River Project e.V. located in Winningen, Germany is working with hands-on environmental protection, education and attempting to implement a new perception of plastic in general as an important and lucrative resource, which should never find its way into nature but should be reused as often as possible.

The project's environmental-, art- and educational mission is to tackle plastic pollution of rivers and oceans and reconnect people with nature. We do so through photo art, educational projects with classes, and proactively gathering people to clean-up rivers, canals and parks locally. At local River CleanUps, we enable individuals, companies and schools to take a stand for their surrounding nature, get engaged and feel a positive impact right away. By kayaking on a river stretch, the volunteers collect all the plastic and other waste floating around in the water and stuck in the surrounding areas. Taking action helps people understand the problem at its grassroots and allows them to contribute in "their own backyard" – thus creating a sense of ownership and the empowering feeling that many small actions will go a long way.

Afterwards, the formerly "useless" plastic waste is transformed into photo art and presented in public exhibitions. With our educational projects, we foster awareness among children and adults alike and offer easy participation opportunities for different groups of people. We use our artwork as a tool to change the perception of plastic from a cheap and single-use material to a valuable resource. Furthermore, we advocate to rethink plastic consumption and proper disposal – so it does not pollute our environment.

REFUSE, REUSE, RECYCLE AND CLEANUP

So, there is a lot of work to do – especially as Germany is Europe's biggest consumer of plastic, and we're still sending our waste to foreign countries for disposal. Sustainability might be the greatest task of the century that our society has to face. However, we must not ascribe this task to politics or the global community as an abstraction;" it affects each and every one of us. After raising awareness for the topic and getting people actively involved, the next step is to educate the people and explain to them which changes must be made on a global scale in politics and industry, and what they can change themselves in their behavior.

Most of the waste the Clean River Project finds during the CleanUp Events is from packaging and single-use products that weren't disposed of properly but thrown into nature, ending up in rivers and oceans. Therefore, it is crucial that we transform from a disposable culture to a recycling economy, where refuse, reuse and recycling are the guiding principles – and natural resources are consciously treated with sustainability.

Furthermore, there has to be a re-evaluation of plastic as a whole. Plastic is a resource that can be used over and over again and should be treated accordingly. Therefore, plastic waste is far too valuable as a raw material to be carelessly left behind in nature, and recycling is becoming a keyword. The development of effective recycling processes is a global issue. The recyclate from used plastic products could replace or reduce crude oil used in plastic production in the near future. At the political, economic and technical level, it is important to set the course for a functioning and efficient recycling system that is also perceived and used by the consumer.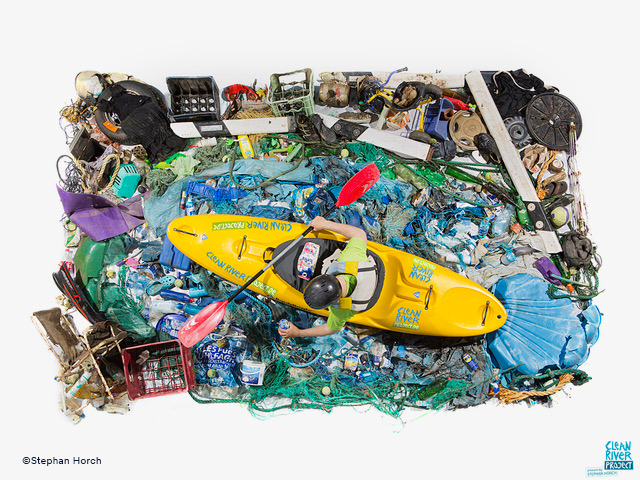 TRANSFORMING PLASTIC TRASH INTO ART

Using photo art to raise public awareness gives us the chance to easily and visually lure people into a new perception of plastic waste via innovative and emotional ways of presentation. Combining aesthetically pleasing motives and objects with commonly disregarded and useless plastic waste creates a visual tension and invites people to see this material as something new they haven't seen before. The exhibitions represent a mirror of our society, without judging or accusing. The aim here is to inspire a process of reflection and taking action.

Most visitors are astonished that the material of the artwork (from witty and small strange things to large amounts of trash and ordinary product packaging) are found in German rivers and their surrounding environment. People often think of plastic waste being stopped by national borders, ergo the large extent of harmful pollution only occurs in foreign countries. As we all know, nature can't be divided by human-made borders. Every piece of plastic ending up in nature is one too many, which extends beyond a national problem.

PURE GOLD?

In our newest campaign, Clean River Project sets a focus on the recycling economy by setting up a utopia and asking if plastic might be able to be the new gold. At CleanUp Events, collected plastic waste will be transformed into golden photographic artworks, symbolizing the resource's worth to sensitize the visitors for a sustainable use of the resource – from the throwaway culture that threatens our ecosystems to environmentally conscious consumption and sustainable action. In this context, the NGO wants to clarify problems in the circular economy and outline solutions with forward-looking ideas. The "golden road" shall change the perception of plastic as a resource. Only by entirely rethinking our ways of dealing with plastic, changing our behavior, and encouraging industry to reduce plastic production and waste, can major environmental damage in aquatic ecosystems be prevented. Because most importantly: Plastic does not belong in nature!

The Pure Gold? exhibition will take place in Berlin in Summer 2021, and more exhibitions are planned for the future. To find out more about the upcoming exhibitions and the Clean River Project, visit our website or follow us on social media.

Clean River Project e.V. warmly welcomes support to help us continue our work. You can make a donation towards clean rivers and oceans here.

Guest author:
Franziska Braunschädel, (M.Sc.) is the second chairwoman of Clean River Project e.V. and resides in Berlin. Through her work, she wants to give future generations the chance to experience the wonders of nature, learn from it, be inspired, and live in harmony with it. Contributing to this mission is a wonderfully rewarding task.