Most People Want Less Plastic Cutlery When they Eat Out – New Study
Stories of pollution-gray skies turning clear blue and wildlife roaming our streets offered a glimmer of hope at the start of the Covid-19 pandemic. Among all this tragedy, at least the environment was catching a break. But with millions under lockdown and trashcans overflowing with Amazon boxes and takeout cartons, has the crisis changed our attitudes towards sustainable shopping?
"
Hygiene concerns in particular have led to a return to a throwaway lifestyle – it seems like every street corner is littered with disposable surgical masks and gloves. The good news is that 82% of people actually want to see less single-use plastic cutlery used in restaurants, cafés and bars in response to the pandemic. This is according to a recent ReThink study that looks at the impact of Covid-19 on consumer behavior.
Country differences – Brits most likely to want more plastic
The study, which surveyed 4,000 people across four European countries, found that 88% of Germans, 83% of Norwegians, 78% of the French, and 73% of Brits want to see less single-use plastic tableware in response to the pandemic. However, some respondents wanted to see more. In fact, British consumers (16%) were over three times as likely to want more throwaway plastic in eateries than their German counterparts (5%), with Norway (9%) and France (12%) in the middle.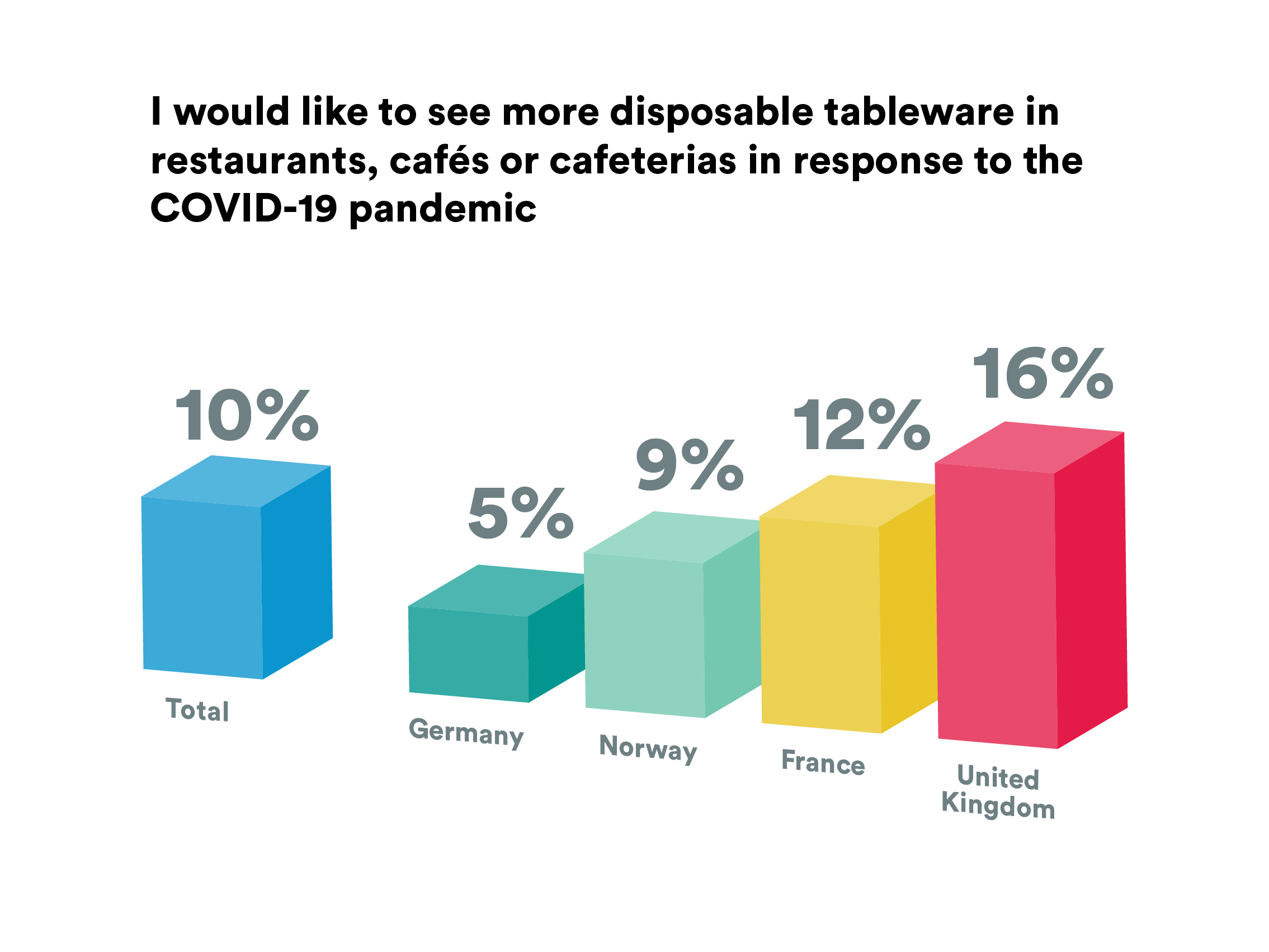 The UK may be more inclined towards disposables, as it has been harder hit by the pandemic than Germany, heightening safety concerns among British consumers. Or perhaps Germans are more used to sustainable consumer behaviors – Germany has the highest recycling rates in Europe and recently banned single-use plastic shopping bags. A closer look at the regional breakdown reveals that more people in North Germany (76%) want to see less disposable tableware than people in the South (64%).
Men and older people want less single-use plastic
Whatever the reason behind UK attitudes to single-use plastic, it is interesting to note that in general (i.e. not in relation to the pandemic) more British men (55%) want to see less disposable tableware than British women (46%). This trend can be seen across the averages of the four countries, with 55% of men wanting to see less of such plastic compared to 52% of women.
Perhaps surprisingly (considering the increased health risks to older people from Covid-19), 60+ respondents were eight percentage points more likely to reject single-use plastic cutlery (85%) due to Covid-19 than people aged 18-29 (78%). In fact, this younger group is twice as likely (14%) to want to see more single-use plastic knives and forks when they eat out than people over 60 (7%).
Education affects attitudes towards single-use plastic
In terms of education, it seems the longer you stay in school, the less likely you are to approve of single-use plastic. 84% of people with a high level of education wanted to see less disposable tableware in restaurants compared to 77% of people with a low level of education. This may hint at education being the key to changing consumer attitudes towards sustainable consumption. For a more detailed look at the effect of education levels on consumer attitudes in France, check out the diagram below.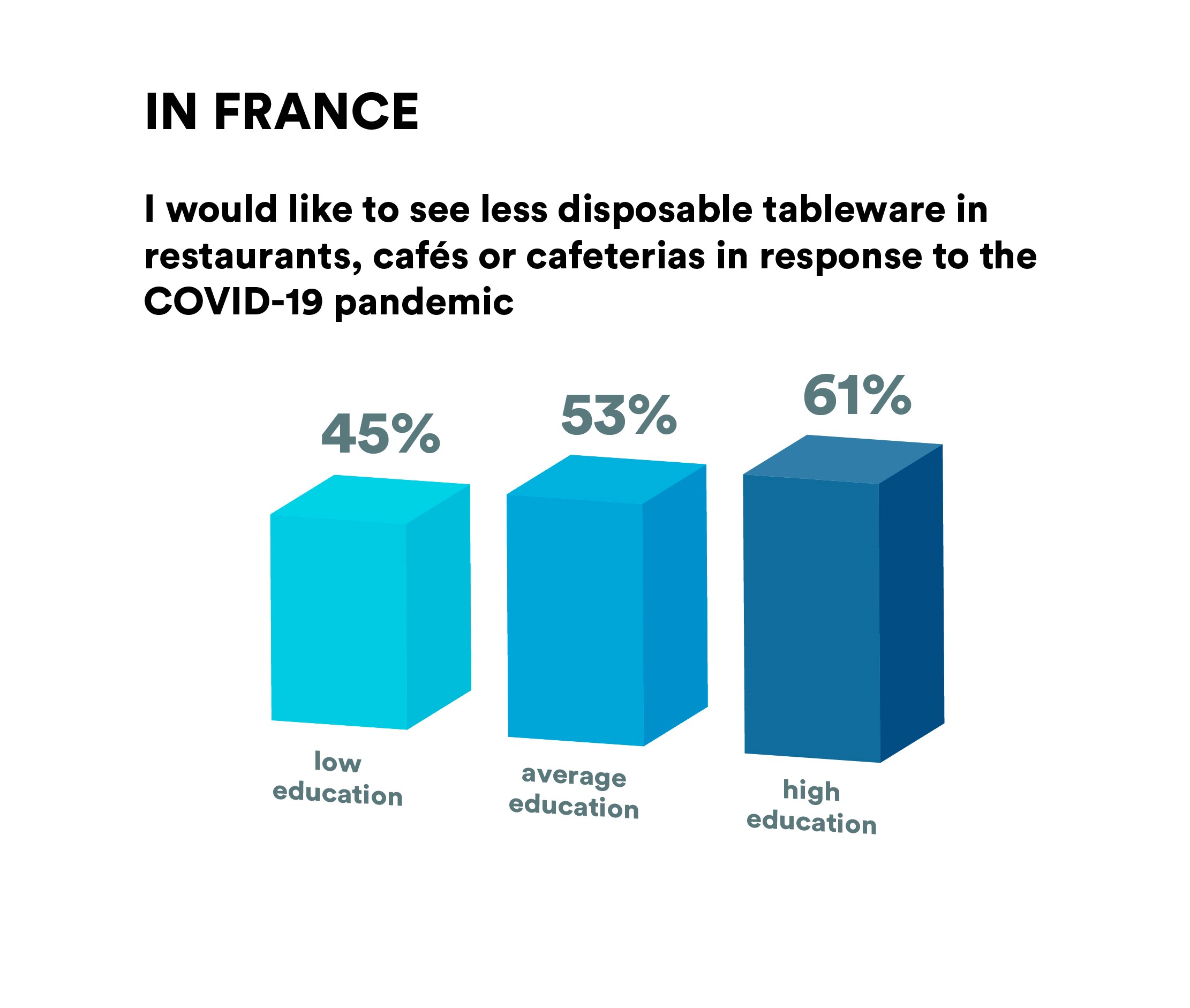 Sustainability still a priority for Europeans, despite pandemic
Irrespective of the pandemic, 66% of Germans, 46% Norwegians, 52% of the French, and 51% of Brits want to see less disposable tableware, and 85% of people across these four countries think it´s time we rethink of how we handle disposable packaging. This is important now more than ever, as the trend towards home delivery accelerates due to the pandemic.

Despite increased safety and hygiene concerns, the coronavirus has only had a small effect on the desire to see more disposable plastic in bars and restaurants. In fact, the vast majority want to see less. As we adjust to the new normal, we can find safe ways to eat and drink in public spaces without relying on single-use plastic. If the pandemic has taught us anything, it is that radical overnight change to consumer behavior is possible. This gives us hope that when called upon, we are able to act.

What about you – has the pandemic changed your opinion of single-use plastic in restaurants? Let us know in the comments below!