We Can Make the Economy Circular
The circular economy may sound like a buzz phrase, but it's really all about getting the most out of everything we use – which is good for shoppers, the economy and the planet.
"
Recycling – along with things like sharing, repairing and reusing – is one of the main things consumers can do to help make the economy more circular. As raw materials grow ever scarcer, global consumption goes up, and dealing with our waste gets harder and more expensive, recycling will be needed increasingly in the future. Plus, recycling saves energy, money and water – so it's an all-round good idea.
We conducted opinion polls using a representative sample of 1,000 people in France, Germany, Norway, and the UK to see if Europeans agree that recycling will be more important in the future. Most said they do – overall, around two thirds of people agreed (62%). This goes to show that most people are aware of the importance of recycling – but let's take a closer look at the ReThink survey results to find out more.
Brits are the least likely to think recycling will grow in importance
People in Germany (69%) were 15 percentage points more likely to think that recycling will grow in importance compared to people in the UK (54%). France (65%) and Norway (59%) came somewhere in the middle. Germany has the highest recycling rates in Europe, which may explain these findings – although the UK has higher rates than both France and Norway . In the UK, education level had a greater impact on this belief than in other countries – just 48% of people with an average level of education thought recycling will be more important in the future, compared to 62% of people with a higher level of education.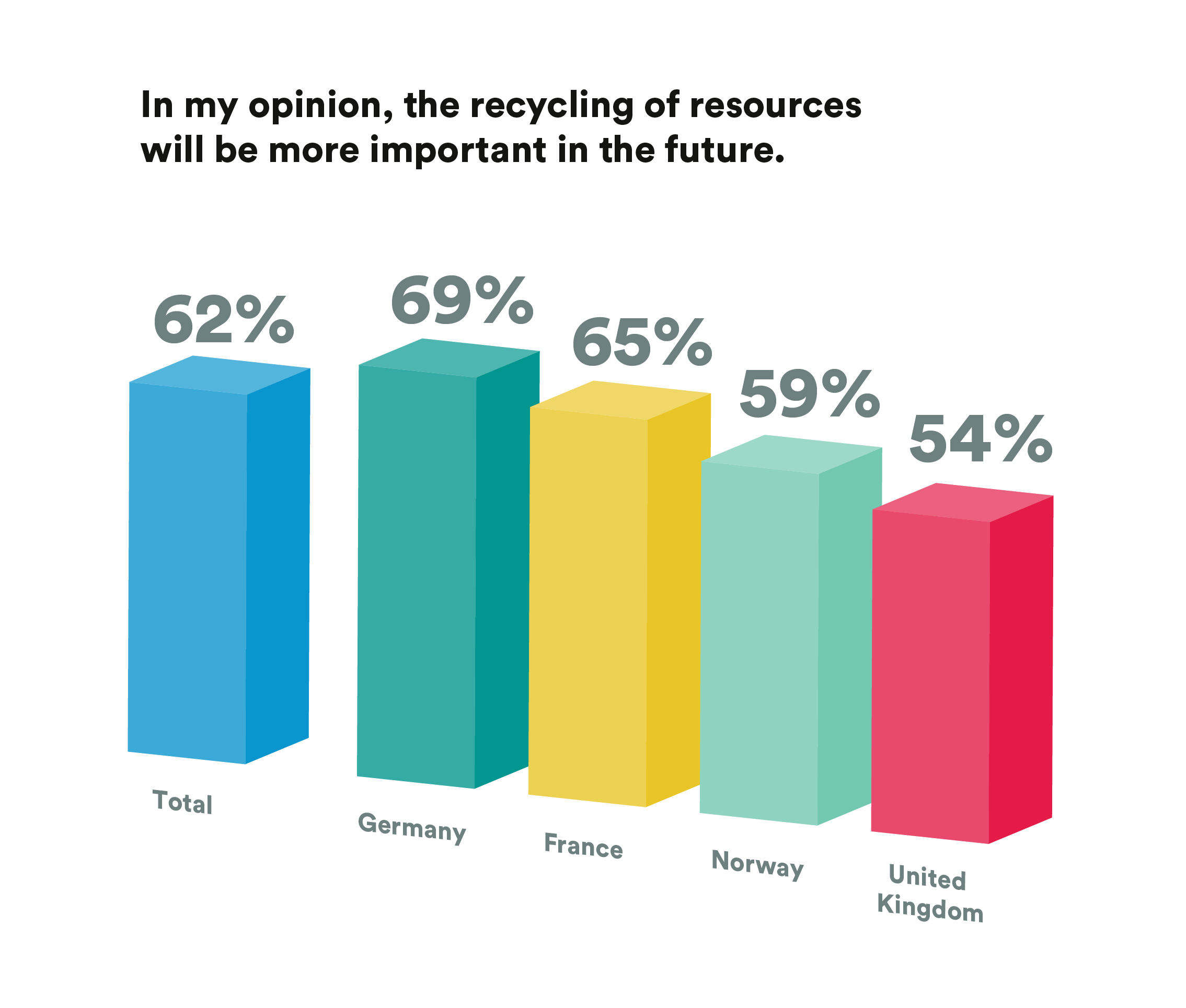 Older and younger people think recycling will be important in the future
In a similar pattern to our ReThink survey results on buying and using plastic while shopping, the youngest and oldest respondents were more confident than those in the middle age groups about the future need for recycling. The reason for this generational divide is unclear – it may be a mixture of factors, such as greater awareness and concern about the environment among younger people, competing priorities for people of working age, and a greater appreciation for saving resources among retired people who tend to be on lower incomes.
"
Gender and education are not decisive factors
Slightly more men (64%) than women (60%) think that recycling will become more important going forward. The difference was also small between people with different levels of education, indicating that this belief is not greatly impacted by formal education. However, this difference was slightly more pronounced in France, where people with high levels of education (69%) were eight percentage points more likely say recycling would become more important than those with low levels (61%).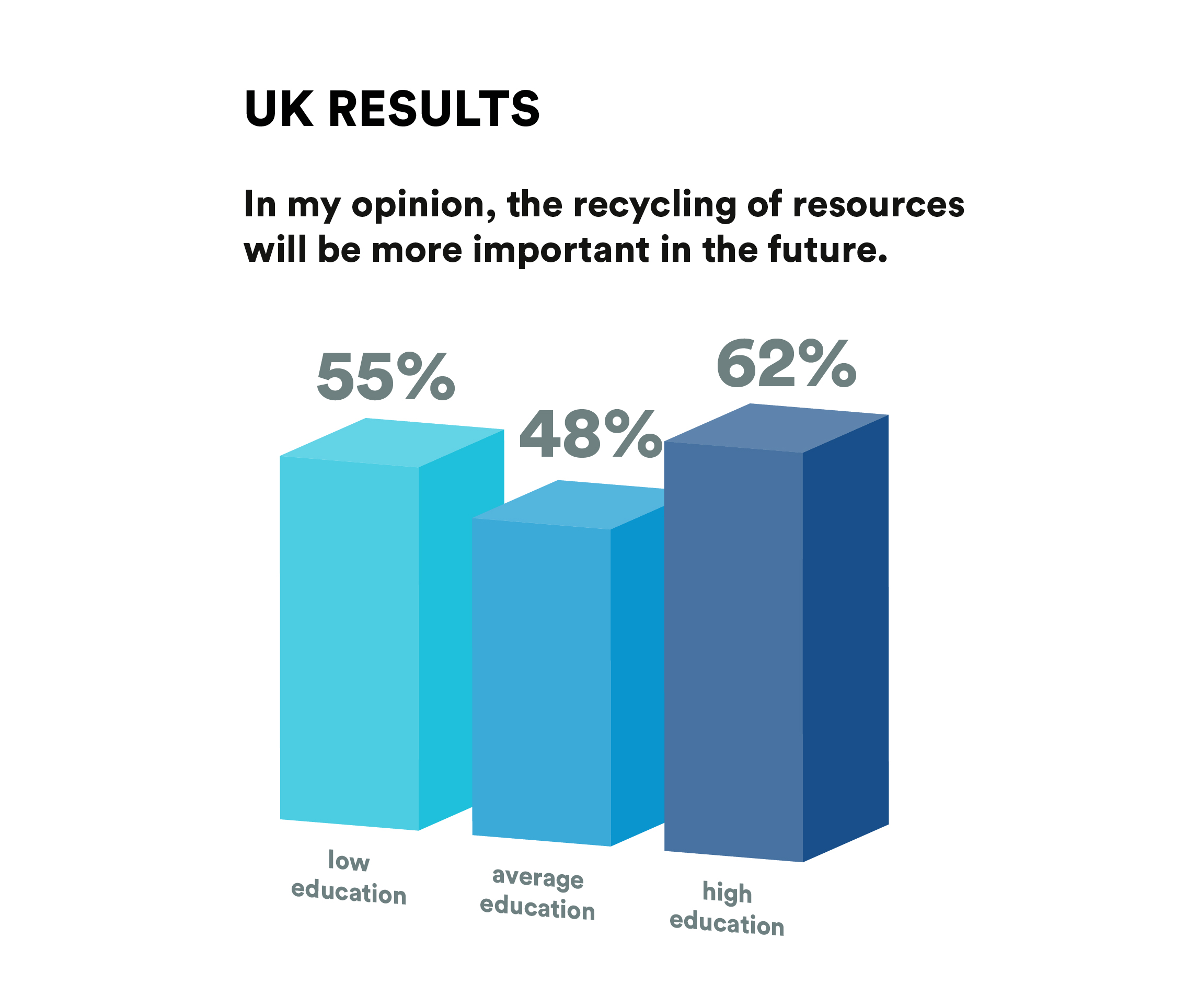 When these findings are coupled with some of the other results from the ReThink survey – such as a desire to see less single-use plastic in restaurants, and calls to rethink packaging to make it more sustainable – it is clear that Europeans support many of the pillars of the circular economy, from re-designing products to consider their full life cycle, to reusing and recycling.
ReSociety was set up to accelerate the transition to a circular economy by bringing together consumers, communicators, businesses, and policymakers to develop solutions, share ideas, and push for change. But change only happens when enough people add their voice – which is why we want people like you to get involved! You can do so by joining the conversation, either in the comments section below, or by submitting your own blog idea. Get in touch and let us know your thoughts.